Services
Hospice and Palliative Care Services
Our Core Services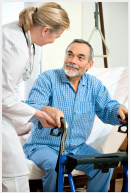 Alliance Hospice and Palliative care offers a wide-range of services for people with serious illness, delivered in a caring and compassionate manner. These services are provided for you when you need them, and at a location of your choice. Our core service offering includes Skilled Nursing, Palliative care, Hospice care, Home Health Care, and Private Pay Care.
Whether you are planning care for your loved one, or faced with decisions today, consider Alliance Hospice and Palliative Care Services.
Service Offering
These are just some of the services provided by our Hospice and Palliative Care Team:
Comprehensive Medical Care
Nursing Services
Pain Control and Symptom Management
All Medications Related to Hospice Diagnosis
Medical Supplies
Home Medical Equipment (Hospital Bed, Oxygen, etc.)
Physical Therapy
Personal Care and Activities
Spiritual Counseling
Social Services
Inpatient Care
Respite Care for Caregivers
Bereavement Support
Volunteer Assistance and Coordination of Community Resources
Contact Alliance Hospice and Palliative Care directly for an in-home private consultation at (617) 402-5202.